Top Luxury Hotels in Italy
Stunning landscapes, beautiful architecture and a diversified culture are some of the things that make Italy an exciting and interesting vacation destination. Italy's top luxury hotels offer vacationers some of the world's best scenery, such as centuries-old architecture and the incomparable Mediterranean sea. Those planning a trip to Italy may wish to consider the following accommodations:
The St. Regis Grand Hotel

Following a restoration costing $35,000,000 in 2007, it is no surprise that the St. Regis Grand Hotel in Rome made Conde Nast's Gold List in 2008 and 2009. Stunning interior design and opulent furnishings create a romantic, mysterious ambiance in this outstanding hotel. Each of the165 suites and rooms feature a combination of Louis XV, Empire, and Regency decor. State-of-the-art amenities, comfortable furniture, and around the clock butler service guarantee each guest an extraordinary stay.
Hotel Danieli
Overlooking outstanding attractions such as the Bridge of Sighs, Doge's Palace and Saint Mark's Basilica, the Hotel Danieli offers visitors a taste of old-world Venice. With a stunning design, including three interconnecting palaces, guests can indulge in luxury and comfort while experiencing the splendor of Venice. Gold embellishments, marble floors, stained glass windows, and authentic antique furniture can be seen throughout the hotel. Those who want to feel like royalty while on vacation should consider the Hotel Danieli.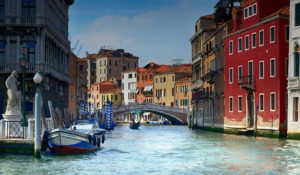 Villa Spalletti Trivelli
Those who enjoy luxury villas will not want to overlook the Villa Spalletti Trivelli as a possibility when selecting vacation accommodations. The Villa Spalletti Trivelli boasts some of the most opulent accommodations in the city of Rome. Impressive architecture, antique furniture, and incomparable service continue to satisfy guests from all around the world each year. Each villa is decorated with antique furnishing from the Spalletti Trivelli family's private collection to create an atmosphere unlike any other luxury hotel in Italy.

Hotel Eden
Rome's Hotel Eden is a luxurious and beautiful establishment that offers the best of Italy to each guest. The hotel was opened in 1889, and ultra-modern conveniences were added to the its original elegance when the hotel was renovated in 2003. Uniquely designed suites, a stunning drawing room featuring marble floors, and a state-of-the-art restaurant make the Hotel Eden a popular favorite with many travelers. Saint Peters Cathedral, the Spanish steps, and other famous attractions are within walking distance from the hotel which many guests find very convenient.
Carlton Hotel Baglioni
Regarded as a boutique hotel, this luxury establishment offers the perfect combination of modern conveniences and old-world charm. Located in the heart of beautiful Milan the Carlton Hotel Baglioni provides visitors with an authentic Italian experience. Offering the perfect blend of genuine Italian design, warm hospitality and excellent food and beverages, the Carlton Hotel Baglioni has everything a vacationer could desire under one roof. Each guest's stay is personalized as much as possible by an attentive and friendly staff. Accommodations are decorated with warm bright colors and all units feature WIFI service, plasma televisions and private telephones. Art Deco Suites featuring luxurious furnishings, marble bathrooms, and authentic Venetian chandeliers present serious competition to other Italian luxury hotels.
Regardless of personal preference, those who choose luxury accommodations when visiting Italy are assured of an enjoyable and unique vacation experience that will be remembered for a lifetime.