Leave Winter Behind on a Fabulous Cruise
There is something about a romantic cruise vacation that creates an alluring and mysterious atmosphere few people can resist. It may be that sense of freedom that only the open sea can provide, or the magic of watching the sun setting into the ocean, most couples are quick to admit they would love to embark on this type of cruise. Cheap cruises and cheap airfares are not difficult to obtain in today's competitive market, and with a little time and effort, a couple can find themselves enjoying the trip of a lifetime for a reasonable price.
Not all cruise destinations and cruise ships are alike, and those looking for romance should consider these aspects carefully before making a final selection. There is a vast array of cheap cruises which offer the candlelight and quiet music those looking for romance are hoping to find, and choosing a love-inspiring destination is not as difficult as it may seem.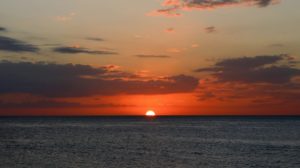 Finding the Ideal Destination
Many romantic places exist around the world and one must consider factors such as climate, ports, and budget when choosing a location. Antarctica or Alaska may appeal to those who enjoy viewing the breathtaking glaciers and ice formations of the colder parts of the world. Nothing is more romantic than snuggling up together over a steaming cup of coffee while whales and penguins provide free entertainment. For those who prefer to find romance in the sun, a cruise through the blue lagoons and stunning volcanic peaks of French Polynesia may be ideal.
Almost all island lovers understand the popularity of Greece as a cruise location. Known for centuries as an area of romance and intrigue, the Greek Islands have much to offer those on a quest for love and adventure. A favorite of hopeless romantics everywhere, the ancient ruins, clear seas, and dazzling beaches in this part of the world create once in a lifetime memories for each visitor.
A Cabin With a View
Regardless of the destination one chooses, a beautiful view is the key factor in creating a romantic ambiance, and even on cheap cruises, a balcony cabins can be that feature breathtaking scenery. Whether a couple chooses a large vessel with lounges, theaters and casinos, or a small ship with calmer attractions, a good cabin is essential to a satisfactory trip. Certain cruise lines offer all-suite accommodations including living areas, spacious bathrooms, walk-in closets, and the aforementioned balconies. Some couples find that if they take advantage of cheap flights they can use these extra savings towards a more extravagant cabin. Whichever destination and cruise line a couple chooses, they are guaranteed not forget their romantic, memorable voyage on the high seas.