Mexico–A Beautiful and Enchanting Getaway Location
Mexico provides the ideal backdrop for a mysterious and romantic vacation. Each year, people travel from all around the world to visit Mexico's outstanding beaches and intriguing landmarks. With the exception of a brief stormy season, travelers can count on pleasant, warm weather and sunny skies virtually any time they visit this beautiful part of the world.
Mexico City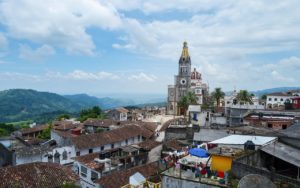 Mexico City, the country's capital, is the oldest city on the North American continent. Over 18 million people live in this industrial metropolis, where plenty of attractions and activities are available for vacationers. Mexico City began attracting tourists and honeymooners in the 1970s and is now considered a perfect getaway destination for those who enjoy water sports, art, history and culture. Unique historical sites and various architectural wonders await visitors of all ages and shopping fans will also enjoy Mexico City's world class markets, the latter of which boast a vast array of clothing, jewelry and authentic Mexican souvenirs.

Mexico City Airport
The Mexico City International Airport–also referred to as Benito Juárez International Airport–is a commercial airport serving Mexico City. Unlike most airports, it goes by several abbreviations, including IATA, MEX, ICAO and MMMX. This airport provides travelers with direct flights to over 300 destinations throughout the world and can handle approximately 45 million passengers each year.
To reach the airport station by rail, one can simply take the airport Metro Station, line 5, from central Mexico City with only one stop at Pantitlan. Most hotels and resorts are situated on the rail line. Additionally, pre-paid taxi tickets can be purchased at the Taxi Autorizado booth in the baggage area of the airport. This makes traveling back to the airport after one's vacation much easier than waiting until the last minute to hail a taxi.
Hotel rates in Mexico City are typically reasonable, and travelers can choose from five star resorts to economy lodging and anything in between. Some favorite Mexico City hotels and resorts include the Gran Hotel Ciudad de Mexico, a popular upscale establishment, and the romantic Las Alcobas Mexico Resort and Spa. The Centro Historico Hampton Inn and Suites is another great choice, particularly for travelers whose primary interest is in Mexico City history.
Key Events
Summer is the most popular season in Mexico City, and part of the draw during this time of the year are the many key events that take place from April to August. For example, festivals such as Cinco de Mayo in May and Semana Santa in April are quite popular among both tourists and locals. Events such as the Mexico City International Contemporary Film Festival, which takes place in early June, also draws a high number of North American tourists.
Temperature
With the sole exception of January and February, when temperatures dip to approximately 45 degrees Fahrenheit, weather is pleasant in Mexico City throughout the year. Average temperatures from May to September are typically in the high 70s with very little rain.
Summer is the busiest season in Mexico City, and therefore is wise for summer travelers to secure a hotel far in advance to avoid being shut out. Regardless of where one choose to stay or the activities and attractions in which he or she is interested, no traveler will ever forget a visit to this lovely and intriguing part of the world.