Westin Poinsett Offers Fabulous Dining Options
For some of Greenville South Carolina's best food, vacationers need look no further than The Westin Poinsett's dining room, the Spoonbread Restaurant. Serving traditional American and southern cuisine, this dining option is guaranteed to please even the most discriminating palate.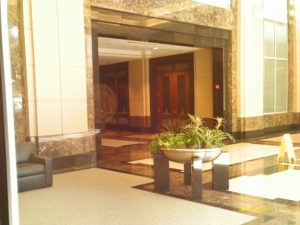 Although the atmosphere is casual, the restaurant exudes high-class, and the goal of each employee is to make every dining experience something to remember. Hotel guests and visitors from Greenville and the surrounding area can join the friendly staff for daily breakfast buffet, lunch specials, dinner or Sunday brunch, the latter of which features menu items such cheddar cheese grits made by local farmers and the restaurant's signature Grand Marnier French Toast. Dinner entrées include seafood, steak, pasta dishes and southern favorites.
The Piano Bar and Lounge
The Westin's Piano Bar and Lounge as a low-key option for those searching for a casual atmosphere in which to enjoy cocktails, top shelf liquors, and a wide variety of beer and wine. Appetizers, sandwiches and entrées are available and the Lounge features live music Wednesday through Sunday.
Catering
The staff at the Westin Pointsett Greenville are dedicated to making special events and business gatherings flawless. Anyone who is planning a wedding, reception, or a business event should call or stop in to take a look at the unique event and holidays menu that is provided for special occasions. Ultimately, no patroness ever disappointed with a visit to any of the Westin Pointsett's eating establishments.