Enjoy Luxury at the Westin Hilton Head Island Resort and Spa
Anyone traveling to South Carolina should consider staying at the newly renovated Westin Hilton Head Island Resort and Spa, which promises both relaxation and invigoration in the midst of some of South Carolina's most impressive scenery.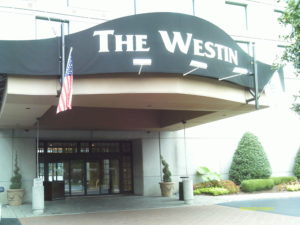 Situated in the heart of the Port Royal Plantation, the Westin is a favorite among countless Hilton Head vacationers. It features soothing, comfortable, old south décor, and each unit has a private balcony overlooking the beach. Expansive, state-of-the-art suites are also available for those seeking true luxury.
All of the suites and rooms at the Westin offers breathtaking views of the landscape, and is appointed with Heavenly Baths and Heavenly Beds, both of which are patented amenities from Starwood Resorts. Youngsters love spending time with the fun and friendly staff of the Westin Family Kids Club, and mom and dad can perfect their tennis stroke, play a round of golf, challenge themselves to a racquetball match or simply allow the beautiful Atlantic breezes to wash over them as they stroll the beach.
Superb dining options also await each guest, from The Carolina Room's sumptuous surf and turf to poolside bar snacks. In addition, with more than 30,000 ft.² of versatile meeting rooms, the resort is the perfect backdrop for unforgettable gatherings such as weddings or business events.
Golf
Golf lovers are thrilled to discover that the resort is surrounded by great golf courses. Additionally, three championship courses are located directly on site.
Fitness center
The resort is also equipped with a top-notch fitness center, which offers treadmills, bicycles and free weights. Those who want to pack light can rent workout clothes from the resort for a nominal fee.
Swimming
Guests can enjoy a dip in the ocean, or dive into one of the resorts three invigorating swimming pools. Lounge chairs and towel service are available when weather is warm, and a poolside bar that offers snacks and tasty cocktails is open throughout the day and into the evening during summer.
Dining
Whether a guest is craving a cocktail and some bar snacks or prefers a fresh Farm & Sea to table experience, The Westin Head Island Resort & Spa has the answer. Establishment offers a broad range of dining options, and visitors can choose from five on-site restaurants or simply order room service and relax in the privacy of their own sweet or villa.
Heavenly Spa
A popular favorite among all Westin Hilton Head Island Resort & Spa guests is the Heavenly Spa by WestinTM. A true oasis, the Spa is nestled amid enchanting lagoons, serene fountains, lush gardens and relaxing boardwalks. The holistic environment creates a true low country experience that one will never forget. All spaces are adorned with natural materials, and various neutral colors accented with sea blue and white create the perfect uplifting and serene ambience.
Visitors can rejuvenate their bodies and enrich their minds with revitalizing facials, luxurious body treatments and soothing massages. The highly personalized service offered by each staff member of the Spa brings peace and harmony to any visitor's life.
In addition to the aforementioned amenities, guests of the Westin Hilton Head Island Resort and Spa can look forward to additional services such as the use of a 24 hour business center, babysitting referrals, concierge service, dry cleaning service, 24 hour front desk, outdoor tennis courts, sauna, free shuttle service to the surrounding area, and 24 hour valet service for 17 USD per day. Regardless of one's vacation objectives, no one ever regrets a sojourn at the lovely Westin Hilton Head Island Resort and Spa.