W Barcelona Rooms With a View
Any beach lover who desires a breathtaking view of the sea while taking a city break or holiday in Spain should make reservations at the W Barcelona Hotel. The establishment boasts 473 rooms appointed with cable television, secluded terraces, private safes, in room bars, stylish wooden floors, ceiling to floor mirrors and en suite bathrooms. Additional amenities include the following:
• Air conditioning
• Slippers and bathrobes
• Work desk
• Dressing area
• Seating area
• Cribs available
• Wake up service
• Radio
• Telephone
• Wi-Fi
• 24-hour room service
• High speed internet
• Housekeeping and turn down service
• Non-smoking units
• Hypoallergenic pillows
• iPod docking station
• Pillow top mattress
• Coffee/tea maker
• Ironing facilities
• Voice mail
The following are just a few of the options from which one can choose when making hotel reservations at the W Barcelona:
The Wow Suite
Named after the only word that can be used to describe it, The Wow Suite is a sophisticated two-bedroom wonderland. It features 31 square metres of expansive exterior terrace with incomparable views of Barcelona proper and the Mediterranean Sea. Additionally, because nothing tops Barcelona summers, guests can enjoy a private Jacuzzi and sun bed, located just outside the door of each unit.
Outstanding in every way and offering unobstructed views of the Port of Barcelona and the Mediterranean Sea.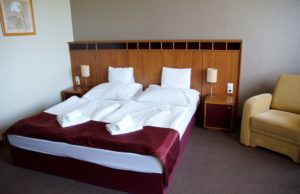 Mega Room
The mega room sleeps six people and is a spacious corner unit for the ultimate, lavish holiday. Anyone who enjoys luxurious opulence when taking a getaway, city break or extended holiday should definitely choose the Mega Room. The corner view provides views of both downtown Barcelona and the dazzling Mediterranean Sea. There is no better room at the W Barcelona for photo opportunities.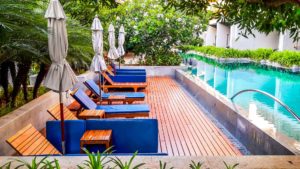 Fabulous Room
The Fabulous Room delivers on the name implied, and these rooms are located on the top four floors of the W Barcelona. These units are designed to keep guests peacefully above the city, whilst still allowing them to remain part of the Mediterranean landscape by offering panoramic views of the beach and Barcelona proper. These rooms sleep two to four guests and will accommodate up to five if one guest is under 16 years of age.
Studio Suites
Studio Suites are a wonderful choice for singles or couples who enjoy spending time in their guest unit as much as they do wandering the city. Fans of luxurious lounging and innovative technology should definitely choose a studio Suite. Impeccably appointed with in-room entertainment and connectivity, these units are perfect for guests who like to stream videos, enjoy satellite radio, and stay connected with Wi-Fi to all their social media sites and other online entertainment.

Cool Corner Suite
Cool Corner Suites are designed for young, hip partygoers. Located in the corner of the W Barcelona where many of the lounges and clubs are found, these lower floor units are convenient to essentially everything. Providing unparalleled views of the Mediterranean Sea, and allowing guests to feel as if they are been washed by the waves due to ceiling to floor windows, these sundrenched corner suites make one feel as if he or she is outside for the entire holiday. The ultra modern and sophisticated décor of the Cool Corner Suites make them one of the most unique units offered by the W Barcelona. These suites sleep up to three people comfortably.
Spectacular Suite
Spectacular Suites are located on the 21st floor and up and are an absolute spectacle of contemporary sophistication and modern conveniences. Complete with a sprawling exterior terrace that offers out of this world views of the Mediterranean, the suites are characterized by their luxurious lounge areas that are unparalleled in the whole of Barcelona.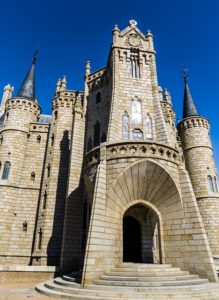 Extreme Wow Suite
Those for whom money is no object and are seeking a once-in-a-lifetime holiday experience should consider the Extreme Wow Suite. Ruling the Mediterranean Sea with an expansive terrace measuring 59 square metres and a bubbling Jacuzzi, the suites are absolutely outstanding. Personally designed by the architect of the hotel itself, Ricardo Bofill, the Extreme Wow Suite sleeps up to six people in three separate bedrooms and features floor-to-ceiling mirrors and a 360° view of the Mediterranean Sea and the city of Barcelona.
W Barcelona accommodation has little or no competition throughout Spain. Anyone considering a holiday in this enchanting city will be 100% satisfied with any guest unit this establishment has to offer.