Top Barcelona Beaches to Visit This Summer
Barcelona, Spain, has something to offer everyone, regardless of his or her lifestyle and budget. It is a city of culture, art, and history, but many visitors are drawn to this alluring city for its beautiful and pristine beaches. Should vacationers find they need a break from sightseeing and other activities, the beach is the perfect solution. Most of Barcelona's golden sandy beaches are just a short walk from the heart of the city and all are kept very clean. The sea water is perfect for swimming, as it is clear and fresh year round.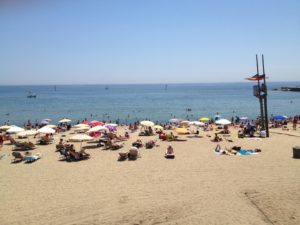 Barceloneta

Barceloneta is closer than any other Barcelona beaches to the centre of the city and subsequently can be very crowded, especially during the summer months. However, the beach is spacious enough for everyone and offers visitors plenty of activities and amenities. Many of the beach hut vendors provide drinks and snacks for those who wish to socialize while enjoying a cocktail. Kite surfing and windsurfing are popular, as well, and many people visit the beach for just this reason. The fastest way to get to Barceloneta beach is to take the yellow line metro transport, but one must be sure to exit the metro at the Barceloneta stop. For those who enjoy a pleasant, sunny walk, Barceloneta can be reached on foot in approximately twenty minutes from the centre of Barcelona.

If one decides to walk, there are some excellent sightseeing opportunities along the way, such as the "Monument a Colom" which is a memorial to the infamous Christopher Columbus. Additionally, the Port Vell de Barcelona, a lovely port with an outstanding view of the marina and sea can be seen along the walk.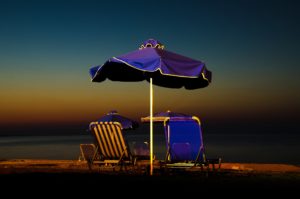 Icaria Beach
Icaria Beach is a bit less crowded than Barceloneta, even during peak tourist season. However, this beach is not within walking distance from Barcelona. Rather, one must take a taxi or the metro. If one chooses the metro, he or she should exit at the Ciutadella Vila Olimpica stop, and then turn right for a five to ten minutes walk that will lead to the beach. Icaria beach offers a calmer, more relaxed atmosphere, and less activity, although there are some beach shacks and snack bars where one can have a cocktail or a bite to eat.
Marbella Beach
Marbella Beach can be reached after a twenty minute walk from the Poblenou metro stop, however, one must be aware that Marbella Beach is very popular with nude sunbathers. Although not officially a nudist beach, there are many people who choose this beach to sunbath nude, so if one finds this offensive, he or she may wish to select another beach.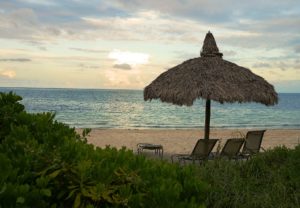 Barcelona Weather
Barcelona weather is enjoyable year round, however, ideal weather is typically experienced from May through July. Mid-September to early October also offers an enjoyable climate and when autumn approaches, temperatures drop to the high 50s, Fahrenheit. August is a month many tourists avoid, due to its extreme heat. Temperatures easily reach the high 90s, with a heat index reaching well over a hundred with 100% humidity. If one visits Barcelona in August and he or she is not accustom to extreme temperatures, it is best to reserve a hotel with air conditioning. The temperatures in October and November are still quite pleasant but a bit cooler, with an average high of 60 degrees Fahrenheit. One must also plan for some overcast days with light to heavy rain during these months. Temperatures from November to February average between 50 and 53 degrees Fahrenheit. Winters are typically dry, so even on overcast days, one is probably safe from heavy rainfall. While summer may be the most popular time to vacation in Spain, travellers will find a wide variety of indoor and outdoor activities exist to please everyone, rain or shine.