Explore the Beautiful Blue Ridge Mountains
Numerous individuals choose the beautiful Blue Ridge Mountains each year for a family vacation. Southern Comfort Cabin Rentals provide lodging for visitors from around the country, and below are some great summer activities to enjoy in this lovely and unique part of the country:
• Mountain biking,
• Horseback riding
• Whitewater rafting
• Jet skiing
• Shopping
• River tubing
• Kayaking
• Hiking
• Scenic drives
• Hiking and fishing

Blue Ridge Scenic Railway
A favorite among travelers, Blue Ridge vacationers can opt for an enjoyable train ride running parallel to the Toccoa River. Guests have their choice of an indoor or outdoor car, and the excursion goes to McCaysville from its starting point at Blue Ridge.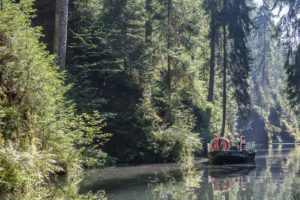 Fields of the Wood Bible Park
Located only 30 minutes from Blue Ridge in Murphy, North Carolina, is the Fields of Woods Bible Park. The Park is the number one family attraction in the Smokey Mountain area and here, visitors will find Bible scriptures engraved on beautiful stones, a giant replica of the Ten Commandments, a 30 foot tall Bible, a replica of both Golgotha and Jesus' tomb, and a picnic area, gift shop, duck pond and nature trails.
Huck's General Store
Located in the Blue Ridge's historic downtown section, Huck's General Store offers patrons a glimpse of the past, with a broad range of goodies for adults and children alike. Visitors can play mini golf, go gem mining, or simply enjoy shopping for unique books, toys, candy, soaps and grocery items.
Ocoee Whitewater Center
At the Ocoee Whitewater Center Vacationers indulge in various activities like swimming, hiking, bicycling, having a picnic or simply searching for souvenirs in the Center's gift shop.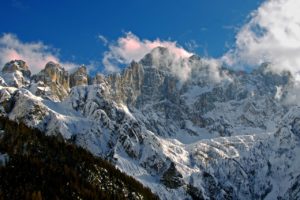 Pickin' in the Park
From May through September visitors can enjoy jazz, bluegrass, and traditional Appalachian music every Thursday at 6 PM along side the Toccoa River. This free entertainment takes place each week in McCaysville, Georgia, at the Ron Henry Horseshoe Bend River Park. Music, food and dancing are also available every Friday and Saturday night at the Morganton Music Park.
Blue Ridge Community Theater
The Blue Ridge Community Theater is a great choice for both residents and visitors, and features a variety of productions including musicals, comedies and dramas.
Fun World Family Entertainment Center
Located in Hiawassee on Highway 515 is the ideal family entertainment center. The Center features something for young and old alike, such as a rock climbing wall, toddler town, indoor mini golf, over 100 arcade games, go kart racing, laser tag, a foam factory and batting cages.
Smokey Bear's Birthday
In August, at Ocoee Whitewater Center, locals and residents celebrate Smokey the Bear's birthday. Here, families can enjoy puppet shows, storytelling, face painting, various games and of course, Smokey the Bear.
Wildlife Habitats
Visitors also have the option of exploring wildlife habitats where they can lunch with Llamas, kangaroos and gorillas and learn about these intriguing animals.
Cabin rentals in Blue Ridge GA are available to suit any lifestyle and budget. However, those planning a visit to the Blue Ridge should make their reservations early to avoid being shut out. Anyone who vacations in this beautiful area of the country can anticipate an enjoyable and unforgettable experience.