Create the Memories of a Lifetime in Malta
Each year holidaymakers from all over Europe head to Malta to enjoy an ideal climate, impressive scenery, great beaches, historical attractions and fossil-studded cliffs. In addition, scuba diving and snorkelling fans frequently choose this small archipelago to indulge in their hobby. Located in the Mediterranean Sea, this southern European country has something to offer travellers of every age and from all walks of life.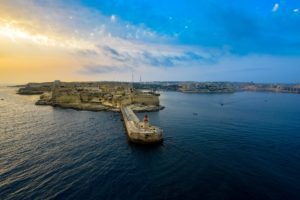 A Popular All Inclusive Destination
Because of the many outstanding activities and attractions are located in this part of the world, it is not surprising that all inclusive Malta holiday packages are popular among many visitors. Its wonderful climate and surrounding seas make beachcombing a favourite activity among tourists and residents alike. Malta also offers additional activities that cater for visitors from all around the world. Those who choose to indulge in a day of sightseeing beyond the resorts and hotels will discover beautiful landscapes, friendly residents and a leisurely pace of life that has endured for centuries. Those searching for rest and relaxation will never be disappointed with what they find in this glorious part of Europe.
An Area Rich in History and Culture
Malta is also a place of significant historical importance and is peppered with stone megaliths and other archaeological tributes to over 7,000 years of civilization. The island has been ruled by Greeks, Phoenicians, Arabs, Carthaginians, Byzantines and Romans, and traces of each one can still be seen all over the island. Anyone who is looking for a diversified country in which to spend time should certainly place Malta at the top of his or her list.
Ideal Climate
Malta's climate is agreeable year-round and the summer season is long, beginning in mid-April and ending in late November with temperatures averaging anywhere from 19 to 23 degrees Celsius. Malta's capital, Valletta, has the warmest winters in Southern Europe and drastic fluctuations in temperatures are rare on any of Malta's islands. The Mediterranean Sea remains warm enough for swimming throughout most of the year. In the spring, wildflowers bloom throughout the islands and unlike most areas of the world, vegetation does not die during autumn or winter. Honeysuckle and Mimosa bloom in many village lanes, and fresh strawberries can be purchased year-round from street vendors.
Places to Visit
Those who enjoy beaches can easily spend the entire day along the shore, whether sunbathing, swimming or simply taking in the scenery. Those who wish to get away from the crowds consider taking an in land excursion where visitors can walk for miles over trails nestled in the island's spectacular hills. All towns have their own special flavour, and those who have time to visit more than one should consider the following:
Sliema and St. Julian's
Malta's to top coastal resort regions are Sliema and St. Julian's. Both are located northwest of Valletta, and feature exceptional dining opportunities, and a broad range of nightclubs and lounges where visitors can interact with locals or other forests. Once a sleepy fishing village, St. Julian's is a highly scenic area and merges with Paceville, the latte of which is a popular area among young travellers.
Sliema this perfect those seeking rest the nation in a historical setting. Here, holidaymakers can enjoy a quiet stroll along the street, each of which is an architectural gem. In the evening, travellers can take it in the view of Sliema Creek the ancient capital's illuminated battlements.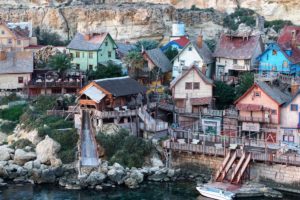 Valletta
Valletta is a must-see region of Malta for any European visitor and was recognised as a UNESCO World Heritage site, due to its massive fortifications and spectacular architecture. Activity bustles in various sections of Valletta, such as Triq il-Merkanti and Triq ir-Repubblika; however, these areas are only a short walk from the narrow, peaceful back streets of the area where locals conduct various activities of everyday life. Valletta overlooks the impressive Marsamxett Harbour to the north and Grand Harbour to the southeast.
Mdina
Mdina, Malta's historic capital, is a small, scenic, city surrounded by an impressive wall and named by the Saracens during their 9th century occupation of Malta. Mdina has earned the name of "Silent City,"as motor vehicles are prohibited within limits.
Paths and walkways in Mdina meander through narrow canyons and unique buildings, and many holidaymakers describe the town as one that seems frozen in another century. In nearby
Rabat, one can visit the beautiful Cathedral of St. Paul, who was believed to have been shipwrecked on the island during the first century A.D. The area boasts extraordinary archaeological sites that are indicative of some of the world's oldest settlements.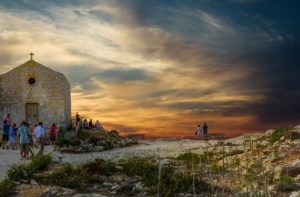 Gozo and Comino
A short ferry ride from Malta is the region of Gozo, an agricultural island that offers a welcome respite from the busier and more populated main island. A favourite attraction among Gozo visitors is a series of prehistoric megaliths and some of the Mediterranean 's best dive spots, the latter of which include the Azure Window and the Blue Hole and Chimney. Some literary enthusisats consider Gozo the mythical island in Homer's Odyssey, Calypso.
Comino is the smallest of the Maltese islands, and is another ideal destination for scuba diving and snorkeling.

Transportation and Reservations
The Malta International Airport is easy to navigate and flights are abundant, particularly between April and November. In addition, a broad range of travel packages are available for holidaymakers from all areas of the world, and the perfect one can be found to suit essentially any budget or lifestyle. However, it is always wise for travellers to make arrangements in advance to avoid being shut out of their desired dates. Anyone who chooses Malta for his or her holiday will not be disappointed with this intriguing area of the world.