New York City Four Seasons Hotel Beats the Competition
Anyone traveling to New York City who is interested in luxurious accommodations and state-of-the-art service need look no further than New York's own Four Seasons Hotel, which has been newly renovated to please even the most discriminating guest. The architectural creation of I.M. Pei, the hotel is a 52 story Art Deco wonder and is located in the heart of Manhattan.

The Hotel's 350 ultra-spacious guestrooms are a literal heaven for travelers who want to leave that cold, impersonal hotel room behind and instead feel as if they were a guest in someone's posh mansion. Accommodations at the Four Seasons Hotel boast picturesque views of Central Park and Manhattan's renowned landmarks, modern designer furniture and cutting-edge technology.
Complimentary Amenities
Guests enjoy a variety of complimentary amenities, including concierge service, express check-in checkout, and unlimited use of the fitness club, which includes workout equipment, a steam room and sauna. The hotel is also home to a 24-hour business center, which offers fax and copy service, and standard Wi-Fi access.
Housekeeping service is offered twice daily, with evening turn down service and shoeshine services are available on demand. Free coffee and daily newspaper are provided each morning for patrons, and free shuttle service in the Four Season's own Rolls-Royce courtesy car is available to any location within a 12 block radius of the Four Seasons.
L.RAPHAEL Beauty Spa
The L.RAPHAEL Beauty Spa is one of the hotel's best-kept secrets, and provides offers world-class services, including massage therapies, nail care, hair care, makeup application, facials and luxury couples' suites for those enjoy indulging in full body treatment at the same time. Located next to the Spa is a retail boutique where guests can buy original L.RAPHAEL skin care products.
Dining Options
Patrons can get together for cocktails in the sophisticated and elegant Ty Bar, which offers an impressive drink selection, that includes craft beers, whiskey, wine, bourbon and specialty drinks. In addition, diners have several menu-of-the-moment options which are provided each day.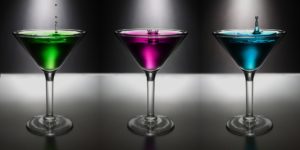 Patrons can also enjoy three meals a day in the elegant, enchanting setting of The Garden, which is not only the hotel restaurant, but also one of New York's most famous eateries. Its extensive menu is sure to please any guest. Room service is also available for jet setting travelers who simply prefer a casual supper in their guest unit.
Business Facilities
The New York Four Seasons Hotel also offers business guests more than 1,200 square feet of meeting rooms, with a business facility to suit whatever one has in mind.
Regardless of a person's individual tastes and preferences, no one is ever disappointed with a trip to the Four Seasons Hotel in New York City.