Visit the Great White Way During Your New York Getaway
With over 35 theaters to pick from, New York offers a tremendous variety of live shows, especially musicals. A 12 block stretch, reaching from West 42nd Street to West 53rd Street in Manhattan, make up New York City's theater district, affectionately referred to as "The Great White Way."
The first live theater in the Big Apple was the Playhouse, established in 1730, but the first electric marquis did not come about until 1891, which began the trend of each theater trying to "outshine" the next and compete for audiences' attention. Famous jazz singer Al Jolson changed Broadway forever with the flamboyant, emotional- style performances he brought to Broadway's Winter Garden theater with nine consecutive sell-out shows from 1911 to 1928.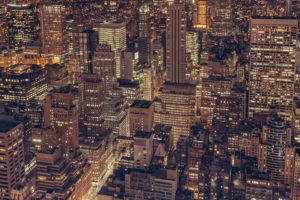 In the early 1930s, with the end of the vaudeville era, many entertainers feared that musicals would meet a similar fate. Some producers felt that "talking pictures," were hurting the live theater business, however, this was proved to be untrue, and despite the catastrophic financial circumstances of the times, Broadway musicals continued to thrive. Theaters on the Great White Way still turned out award-winning shows like "Girl Crazy," "I Married an Angel," and the longest running musical of the 1930s, "Of Thee I Sing." The 1940s gave us "Louisiana Purchase," 'This is the Army," and of course the surprise hit, and now-cultural phenomenon, "Oklahoma."
The next two decades produced highly original and unique shows, like "I Do," "Pocketful of Rhymes," and "Riverwind." In 1959 history was made with "The Sound of Music", featuring the famous score by Rogers and Hammerstein, and the remarkable "West Side Story" with it's outstanding dance numbers entertained audiences for many years after its 1961 debut.
One of the most famous New York Musicals is arguably the surprise hit "Chicago," which rolled out in 1975 and was based on the backstage life of dancers in the Windy City. That same year, "Chicago" found stiff competition in "A Chorus Line," which was instantly a smash hit. In 1972, "Oh, Calcutta" was released in an off-Broadway venue, as many critics felt it would be a massive failure since some of the scenes shocked audiences with the cast's total nudity. However, as they sometimes are, the critics were wrong, and "Oh, Calcutta" became the 6th highest grossing New York Musical in History. Of course, "Cats," "Grease" and Les Miserable" as some of the best-loved musicals of all time, and feature the most talented entertainers New York has had to offer. The latest surprise is a Broadway musical based on the hit film "The Bodyguard," which starred the late Whitney Houston. One thing is for certain, the Great White Way is definitely here to stay.