Santorini's Hotel Mystique Offers a One-of-a-Kind Experience
The Hotel Mystique in Santorini is tailor-made for individuals who thrive on holidays that focus on rest and rejuvenation. At this resort, one's soul and body can be revived and restored.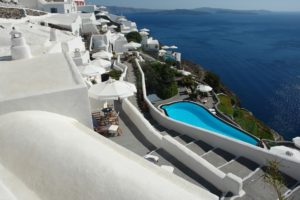 Services and Amenities Overview
The Hotel Mystique offers outstanding mountain bikes for patrons to explore Oia at their own pace, without having to worry public transportation schedules. After a day at the beach or biking around the area, visitors can enjoy a massage in the privacy of their own suite or indulge in an outdoor massage in a secluded sanctuary that provides state-of-the-art services. Whichever option one selects, there is a wide array of body massages, wraps, and facial treatments from which to choose.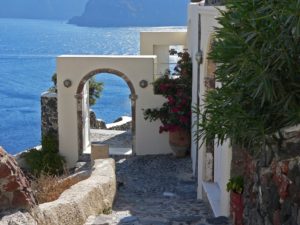 Infinity Pool
The highlight of the Hotel's alluring beauty is its infinity pool. Located above the mesmerising waters of Aegean Sea, the pool literally hangs on a volcanic cliff. Providing breathtaking views of the Caldera as well, relaxing in such a pool is an experience that will never be forgotten. Many patrons complete the experience with a signature cocktail from the Hotel's bar.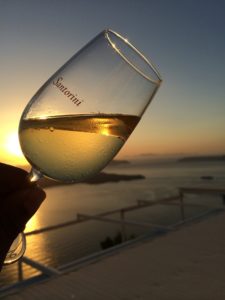 Additional amenities include the following:
• Fitness center
• 24-hour front desk
• Safe-deposit boxes
• Floral services
• Laundry and valet service
• Concierge service
• Welcome drinks
• Medical services available
• Bellman and porters
• Air-conditioned facilities
• Travel agency
• Business centre
• Butler service
• Outdoor infinity pool
• Water sports
• Horseback riding
• Sailing
• Car-rental services
• Private helicopter service
Guest Rooms
The nature-inspired design of all guest units is handcrafted from stone and wood, and harmonizes with modern amenities and authentic, stark architecture. All villas and suites open to panoramic sea facing balconies or terraces, and feature an open dining area, relaxing daybed and glorious views of the Caldera and the Aegean Sea.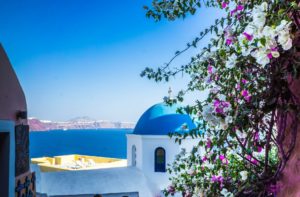 Vibrant or Allure Suites
Vibrant suites measure 40 square metres and feature a cavelike style, with an airy bathroom and hydromassage shower and bathtub. The 50 square metre Galore Suites include marble sinks, glass cabin rain showers and Jacuzzi tubs. The Wet Allure Suites offer unparalleled privacy and use an authentic design to rejuvenate the senses. These suites feature captivating views of the sea and both feature outdoor Jacuzzis.
Spiritual Suite and Spa
Each 60-square-metre Spiritual Suite and Spa offers the perfect setting for utter indulgence. Providing panoramic vistas, there are private terraces, which are appointed with Jacuzzis, open-air dining rooms and a private fitness suite that includes free weights, massage bed, bicycle, and treadmill. The open living room plan leads into a large bedroom, with a walk-in wardrobe and separate steam bath and shower in the room's private bathroom.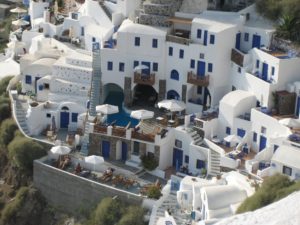 Secrecy and Mystery Villa
Spanning 70 square meteres each, the Mystery Villa and Secrecy Villa offer expansive private terraces with outdoor Jacuzzi tubs and other enriching facilities. Each has a private plunge pool or a secluded infinity pool. These villas are also equipped with private fitness centres, luminous bathrooms with designer amenities and separate glass cabin showers with steam bath combinations.
Guest Room Amenities

Dining
• Mini Bar
• Fruit Basket
• 24-Hour Room Service
• Bottled Water
Entertainment
• CD Player/Radio/Alarm Clock
• DVD Player
• Plasma Television
• In-Room Movies
• Satellite Channels
• Cable Channels
• Video Library
• Voicemail
• Internet Access
• International Direct Dialing
• Telephone
Dining
Those visiting the Hotel Mystique in Santorini are always pleased with the dining options at the resort. Regardless of the type of cuisine one prefers, something is available for even the most discriminating palate.

Charisma Restaurant
Experience a mouthwatering menu in an open air dining setting that highlights an eclectic mix of regional favorites and the freshest local ingredients and seasonings. The Charisma Restaurant is open seven days a week and reservations are not necessary.
Captain's Lounge Breakfast Terrace
In a captain's house that is thousands of years old and decorated in a sophisticated island style, patrons can enjoy breakfast on a massive sofa, expansive balcony, or at the poolside. Regardless of which area one chooses for a delicious breakfast, a breathtaking view is guaranteed.

Asea Lounge Restaurant
The specialty of the Asea lounge Restaurant is artisanal Japanese cuisine influenced by the Aegean Sea. Simplicity with a twist describes the delicious sushi selection, highlighting locally sourced seafood of exceptional quality.
Secret Wine Cave
In keeping with the theme of the Hotel and Resort, having a drink in 150-year-old wine cellar, for which the formal name is the Secret Wine Cave, is a great activity for virtually anyone. As the sun goes down, patrons can experience the best of wine tasting and enjoy dinner in a mysterious, ancient atmosphere.