Enjoy a Unique Family Getaway in Intriguing Baton Rouge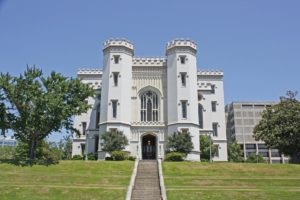 Baton Rouge, the Louisiana state capital, owes its name to two Native American tribes who marked their territory's boundaries with red posts or "batons." Situated parallel to the Mississippi River, Baton Rouge is home to the destroyer, USS Kidd, which is one of the many must-see attractions in the city. Other popular tourist attractions include the Magnolia Plantation, Baton Rouge Zoo and the Old State Capital. In addition, the city is well known for its lovely parks and outstanding shopping opportunities.
The Old State Capitol
A striking, Gothic-Revival Castle, The Old State Capitol building was built in 1847, and is noteworthy from both an architectural and historic perspective.
During the Civil War, the castle was burned almost completely to the ground, but was repaired in 1882 and served as the state's capitol building until 1932. This mesmerizing structure stands high on a bluff over the Mississippi River, and now houses the Political History Museum, which offers many interesting exhibits, including those that focus on the Civil War, the Legacy of Huey Long and the Governor's Portrait Gallery. The Old State Capitol hosts numerous events and individuals can rent the castle as a venue for various occasions such as weddings.
Magnolia Mound Plantation
The Magnolia Mound Plantation was built in the late 1700s and showcases architectural influences from both the West Indies and France. Over the years it has been owned by various individuals who made their own extensions and alterations. However, it still maintains much of its 18th-century appearance and the grounds are beautiful and extensive, with centuries-old oak trees, as well as magnolia bushes. Currently, it is listed on the National Register of Historic Places and tours are available to the public.
Rural Life Museum
The Louisiana State University Rural Life Museum presents the cultures and lifestyles of pre-industrial Louisiana. Highlights of the museum include a barn with items dating from the 20th century back to prehistoric times, a working plantation and the Louisiana Folk Architecture, which is a collection of various objects such as a potato house, Acadian house, cabin and church. Tours are typically self-guided, but one can arrange a guided tour in advance if desired.
Baton Rouge Zoo
The Baton Rouge Zoo is home to both domestic and exotic animals, including fish, otters, rhinos, large cats, and amphibians and reptiles of Louisiana. There is also a section of the zoo referred to as Parrot Paradise that includes colorful tropical birds, such as macaws, parrots, flamingos, and Galapagos and Aldabra tortoises.
The Kid's Zoo is another popular area within the zoo, and this section features barnyard animals, a petting zoo, safari playground and tunnels in which children can play.
The Louisiana Arts and Science Museum
The Louisiana Arts and Science Museum is housed in a beautiful old railroad building located along the Mississippi River. The museum boasts a variety of science and art venues, with something for everyone, regardless of their age or background. Both changing and permanent exhibits of fine art are found within the galleries, and some of the highlights include European, American, contemporary, and ethnographic art. In addition, the museum houses antiques, photos and items from pre-industrialized eras.
The science portion of the museum focuses on families and children and is an interesting area in which to interact with other people via the use of educational displays. It is an excellent choice for families who want their children to learn about the world around them in a fun atmosphere.
In yet another section, there is a well thought out gallery that contains artifacts, mummies and other items from ancient Egypt. The museum is also home to an on-site planetarium, gift shop, and snack shop.
Anyone traveling to Baton Rouge should be aware that planning in advance is important, as accommodations book up quickly during peak season. Regardless of one's individual tastes or preferences, Baton Rouge offers something for everyone. Anyone who chooses this colorful city for his or her vacation will have an exciting and memorable experience.